Designed for the do-it-yourself home improvement person, the TimberWolfTM Composite shim provides a cost effective solution for your leveling needs. The TimberWolfTM Composite shims are sold in packs of twelve (12), and can be found at your local Home Depot or Lowe's Home Improvement stores.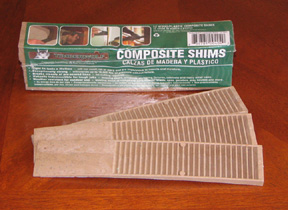 Product Description:
8" long, wood fiber / plastic composite shims. Waterproof, will not rot. Snap easier and cleaner than traditional wood shims.
Quantity per individual pack: 12 shims
Quantity per master carton: 48 packs
Quantity per pallet: 50 master cartons
Individual pack size: 8" x 1.5" x 2"
Master carton size: 17" x 9.75" x 9"

Item # SHM1-12-TW
MSDS Sheet (PDF copy)

Use the following link to locate the Home Depot Store near you: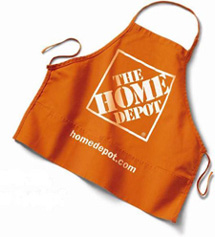 Use the following link to Locate the Lowe's Home Improvement Store near you:

TRANSFERABLE LIMITED LIFETIME WARRANTY
TIMBERWOLFTM COMPOSITE SHIMS
True Line Mold warrants its TIMBERWOLFTM COMPOSITE SHIMS against rot, decay, splintering, splitting or cracking, termite damage, and fungal decay for the life of the Composite Shims, subject to, and so long as the Composite Shims are used in accordance with, these Limited Warranty provisions.
This Limited Warranty applies only to product purchases made on or after January 1, 2009. This Limited Warranty is transferable by the homeowner / individual that originally purchased the product to a subsequent owner of the residential property on which the TIMBERWOLFTM COMPOSITE SHIM is permanently installed. For continued coverage under this Limited Warranty, each subsequent owner must obtain the proof of original purchase from the prior owner and the failure to obtain, retain or provide the proof of original purchase will relieve the Company of any further obligations under this warranty.
This Limited Warranty applies excludes any and all defects including but is not limited to the following:
<![if !supportLists]> · <![endif]> Failure of, damage from, or malfunction of the product resulting from accidents, misuse, abuse, impact of foreign objects, negligent or intentional acts causing damage, any act of God, including, but not limited to fire, earthquake, lightning, hurricane, tornado, exposure to harmful chemicals, pollutants, vapors, and/or acid rain.
<![if !supportLists]> · <![endif]> Alterations or modifications to the product.
<![if !supportLists]> · <![endif]> Use of accessories which do not properly receive and/or secure the product.
<![if !supportLists]> · <![endif]> Color disparities arising from parts having been installed at different time periods.
<![if !supportLists]> · <![endif]> Color disparities arising from or caused by hard water and/or chemical stains.
<![if !supportLists]> · <![endif]> Movement, distortion, or settling of the ground or structure on which the shim is installed.
<![if !supportLists]> · <![endif]> Exposure to excessive heat which is non-climatic related.
The sole remedy for any product or material deemed by the Company to be defective and covered by this Limited Warranty shall be replacement of the defective material. Upon presentation of a valid proof-of-purchase for a claim covered by this Limited Warranty, the Company will replace the defective material. The Company shall not be liable for any costs associated with the shipping and/or labor necessary to repair, replace or install the material furnished under this Limited Warranty.
TO TRANSFER THIS LIMITED WARRANTY, THE NEW OR SUBSEQUENT OWNER MUST OBTAIN THE PROOF OF ORIGINAL PURCHASE FROM THE PRIOR OWNER. TO MAKE A CLAIM UNDER THIS LIMITED WARRANTY, SEND THE CLAIM, ALONG WITH A DESCRIPTION OF THE CLAIMED DEFECT AND THE ORIGINAL PROOF OF PURCHASE TO:
<![if !supportLists]> · <![endif]> True Line Mold
<![if !supportLists]> · <![endif]> 12205 Hansen Road
<![if !supportLists]> · <![endif]> Hebron, IL 60034
EXCEPT AS SET FORTH ABOVE, THERE ARE NO WARRANTIES, EXPRESS OR IMPLIED, WITH RESPECT TO THE TIMBERWOLFTM COMPOSITE SHIM PRODUCT.
THE COMPANY EXPRESSLY EXCLUDES AND DISCLAIMS ANY IMPLIED WARRANTIES OF MERCHANTABILITY AND ANY WARRANTIES OF FITNESS FOR A PARTICULAR PURPOSE, APPLICATION, OR USE. UNDER NO CIRCUMSTANCES SHALL TRUE LINE MOLD, INC. BE LIABLE FOR SPECIAL, INCIDENTAL, OR CONSEQUENTIAL DAMAGES, WHETHER SUCH DAMAGES ARE SOUGHT IN CONTRACT, TORT (INCLUDING BUT NOT LIMITED TO NEGLIGENCE AND STRICT LIABILITY) OR OTHERWISE, AND TRUE LINE MOLD, INC.'S LIABILITY WITH RESPECT TO A DEFECTIVE PRODUCT UNDER THIS LIMITED WARRANTY SHALL IN NO EVENT EXCEED THE REPLACEMENT OF SUCH PRODUCT AS DESCRIBED ABOVE. SOME STATES AND JURISDICTIONS DO NOT ALLOW SOME OR ALL OF THE LIMITATIONS SET FORTH ABOVE, INCLUDING THE EXCLUSION OF INCIDENTAL OR CONSEQUENTLY DAMAGES, SO CERTAIN OF THE LIMITATIONS MAY NOT APPLY. IF ANY PROVISION IS FOUND UNENFORCEABLE ONLY THAT PROVISION SHALL BE STRICKEN AND ALL OTHERS SHALL APPLY. THIS WARRANTY GIVES SPECIFIC RIGHTS AND YOU MAY HAVE OTHER RIGHTS THAT VARY DEPENDING ON THE STATE OR JURISDICTION.